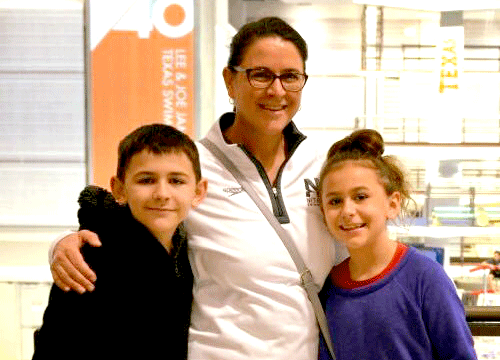 Alice (Natina) Teeters
Instructor & Master Trainer

Alice is the top performing manager for the highest-rated swim school in Austin, TX.  She started her swim teaching career in her teens after shadowing her mom, Phoebe Natina, as a private instructor working with children ages 0-5, and now has over twenty years of experience in the swim teaching world. As Swim School Manager and Master Instructor at Nitro Swimming's Bee Cave site, she manages a staff of 20-35 employees at a facility that teaches over a thousand students a week. In her role, she also participates in United States Swim School Association (USSSA) conferences.
Before moving to Austin with her family, she was a director of a Learn-to-Swim Program for a private athletic club in Redding, CA, which acted as a feeder program to a competitive USA swim team. In her capacity as director, Alice developed curriculum for Parent & Tot, Group Lesson Learn-to-Swim, and Pre-Team programs. She also taught and directed school district Learn-to-Swim programs for K-2nd grade. Alice was recognized by Sierra Nevada LSC for 10 years of stellar service in the learn-to-swim arena.
Alice has helped build from the ground up multiple programs that are now well established and thriving. Her expertise spans curriculum development, instructor training, and development of best practices for teaching swimming for ages 0-5. She has skills in management and leadership, payroll and scheduling, communications and planning with facility managers, business owners, and club members, and substantial experience in ensuring quality in swim education.
SPECIALIZES IN
Swim School Management
Staff Training and Development
Instruction
Class Management
Family-Centered Approach